Exoprise introduced a number of new features and updates in the fall of 2021.
Upgraded Headless Browser and WLOG Support
The headless browser that drives many sensors such as Salesforce, Service Now, Workday and more has been upgraded to recent chromium derivation. The generic WebLogin (WLOG) sensor now utilizes this headless browser which provides much improved performance, compatibility with the latest SaaS services, and better Single Sign-On support.
New Device Data Change Widget for Service Watch Desktop
There is a new Device Data Change widget that is excellent for visualizing long and short trends across metrics that are captured in Service Watch Desktop. Here are some examples of Device Data Changes that can be visualized for analysis.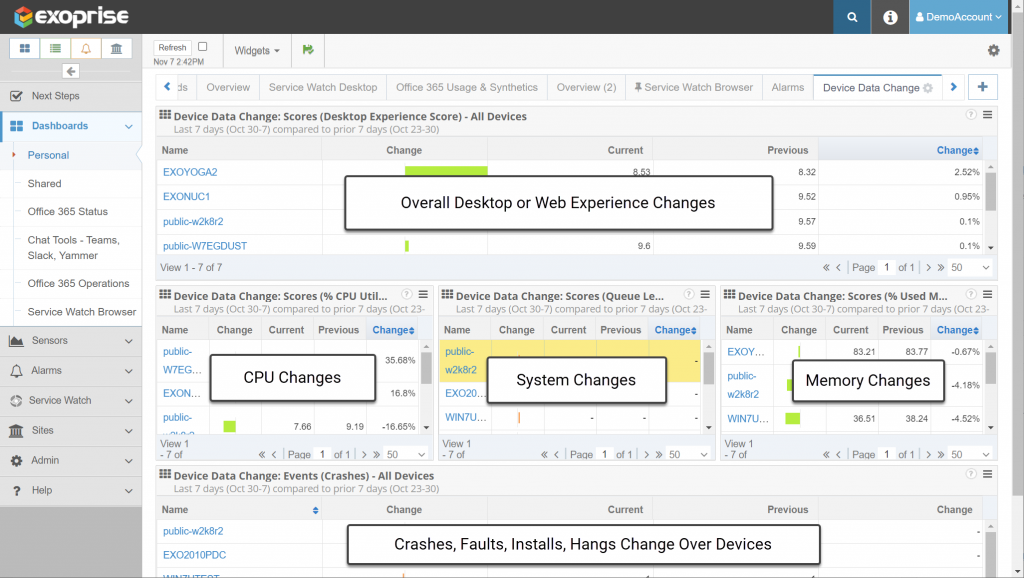 This view can assist in discovering new performance or applications issues across the environment that require attention. Drill through to a device to get details on the issue.
New Application Network Data for Service Watch Desktop
Service Watch Desktop now captures, records, and displays host names for desktop network applications. In addition, we have added to the list of core applications that network latencies are captured for in real-time including, Outlook, OneDrive, Teams, WebEx, Zoom, Citrix, and Remote Desktop.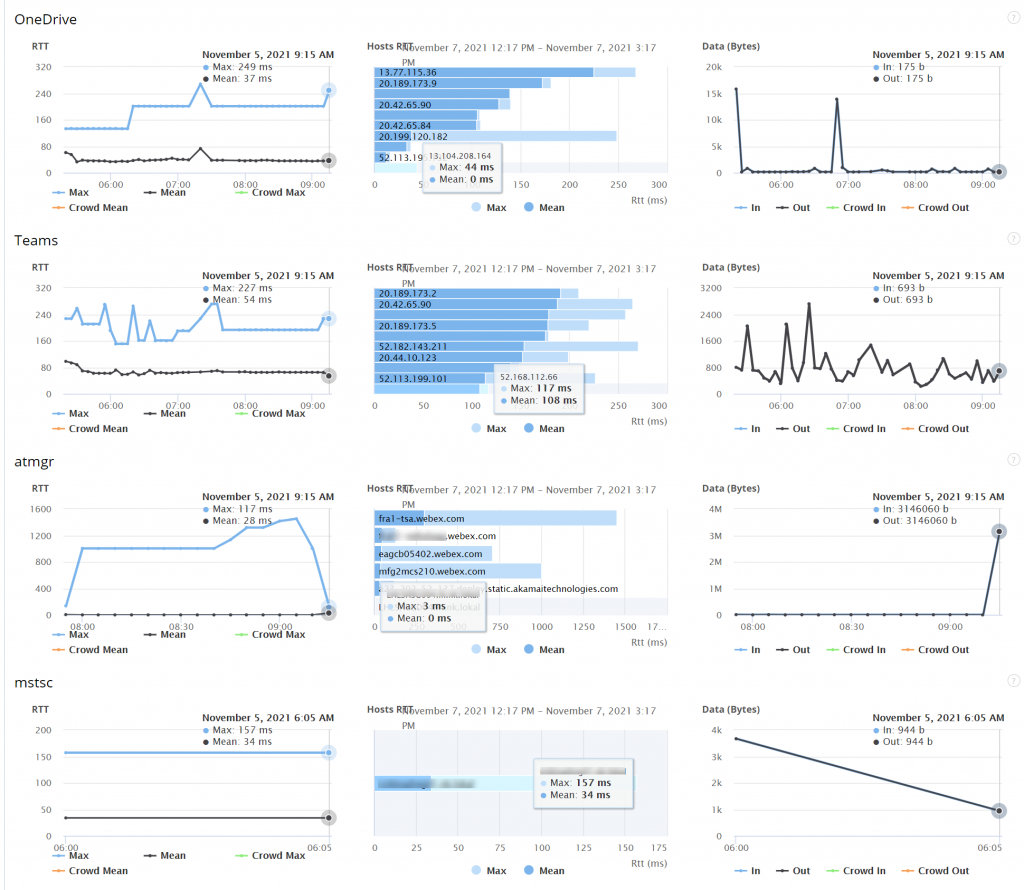 This information is collected for core applications and crowd-sourced in real-time. No device drivers are required for this functionality.
Desktop Configs Can Now Include Multiple Browser Extension Configs
You can easily create a Service Watch Desktop configuration that can be packaged, downloaded, or sent as a link for an end-user to install. Service Watch Desktop configurations contain settings and customizations.
Recently updated, Service Watch Desktop Configurations can now point to multiple Service Watch Browser domains and filters for monitoring different websites and applications.
Alarm Manipulation and Changes Are Now Recorded in the Audit Table
Alarm updates are now recorded in the audit table regardless of whether executed in the UI or via APIs.
Service Watch Desktop and Private Sites Have Gone 64bit
Private sites and Service Watch Desktop binaries have gone 64bit. New installations automatically get the 64bit binary while existing installations will be upgraded over the next few months. The 64bit version of our binaries is more stable and runs faster than the previous 32bit version. There's no noticeable impact to an increase in memory usage.
Bug Fixes
We bury the bug fixes here at the end, they happen to the best of us:
Many informational tooltips were added throughout the Service Watch pages
Azure AD SSO support was improved across most of the sensors
Network Path Performance data was made available for Service Watch Browser
A new paywall was introduced
The sensor scheduling algorithm was updated to improve sensor performance
Numerous fixes for the RDP sensor were released