Exoprise introduced a number of new features and updates in the second quarter of 2021.
New Service Watch Browser Detail Page
While we've been building out the widgets and automatic layouts for our dashboard, the engineering team at Exoprise has also been busy adding detail drilldown pages for diagnosing user SaaS network problems when they are working anywhere or back at the HQ.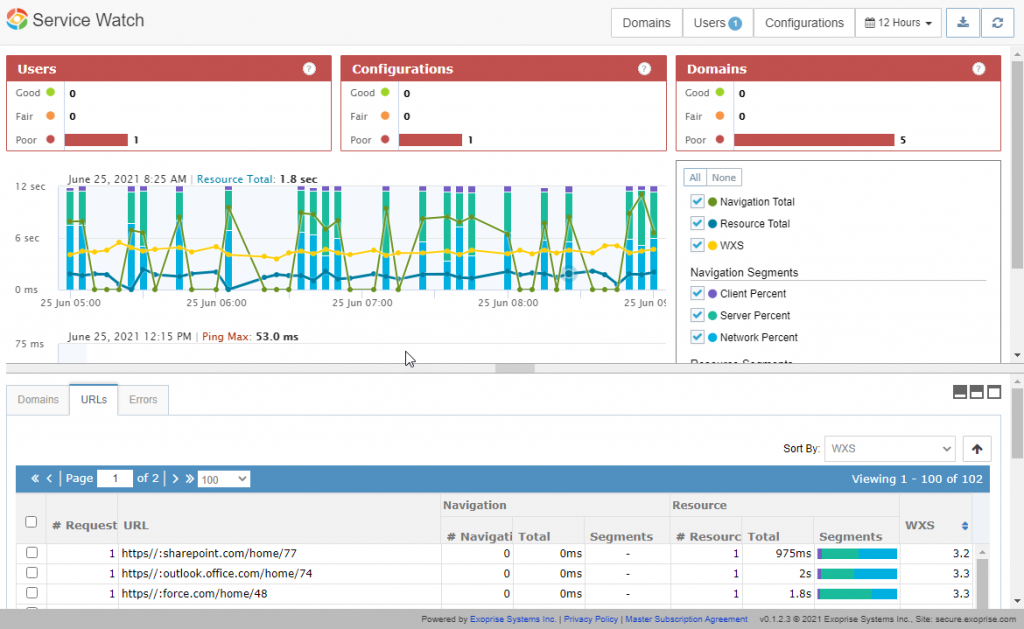 Real User Network Response and Packet Loss for Thick Client Apps
The latest version of Service Watch Desktop provides unique insight into the response times (RTT) and packet loss for business-critical Microsoft 365 Apps including Teams, Outlook, OneDrive and more. Real-time network visibility into apps like Outlook and Teams was a frequently requested (demanded!) feature and Exoprise has delivered.
Along with Microsoft 365 mission critical apps, we've configured Service Watch Desktop to monitor network response for Zoom, WebEx, RingCentral (softphone) and more. If there's a collaboration or RTC app that you want us to cover you can configure Service Watch Desktop to monitor it.
These response times that are collected are the same ones that the Windows kernel uses to measure MTU and TCP/IP back-off algorithms as part of reliable packet delivery. We also crowd-source the data for network benchmarks.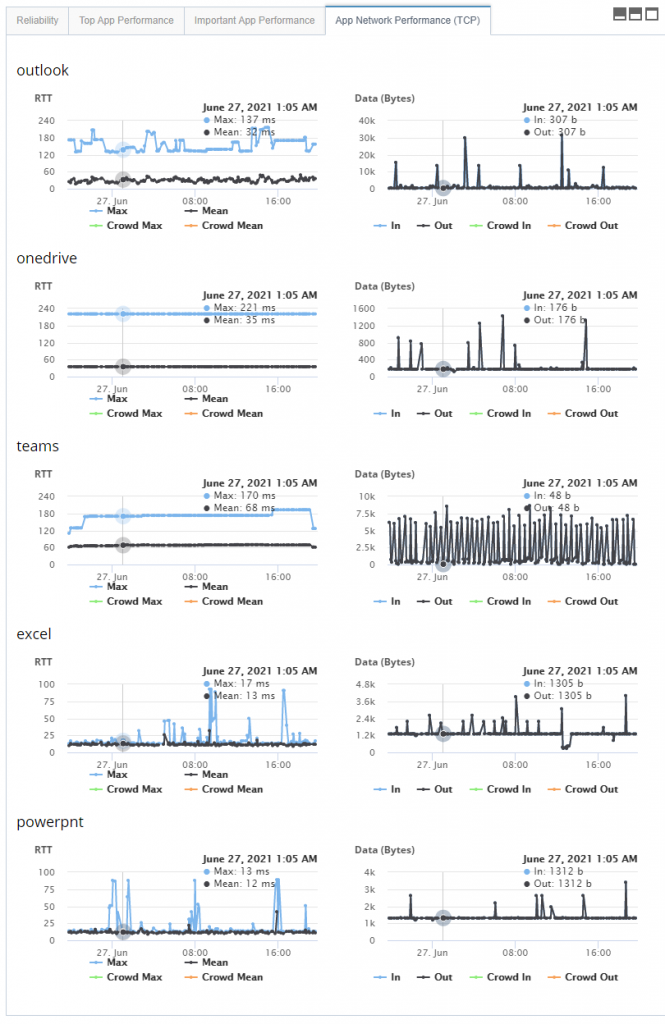 Service Watch Desktop Details Page
A new Service Watch Desktop Details page was introduced that can be drilled into from any of the new Service Watch Desktop widgets. This page is utilized by our customers and their help desk teams when diagnosing problems with SaaS apps or Office 365 application and networking problems.
We collect 1000's of metrics for a desktop, the networking, WiFi signal strength and composite scoring across all of the metrics to assist in making sense of the metrics.
Non-idle Collection
Another important characteristic of Service Watch metric collection is that performance metrics (system resource and application performance) are only collected when the user is NOT idle. We also collect and record statistics before the user exits idle, by about 5 minutes and about 5 minutes after the user becomes idle.
Working with customers, one of their requests was to properly characterize the Digital or Desktop Experience for the user. Collecting and summarizing data only when the user is NOT idle is one way we more accurately identify the overall experience for the user.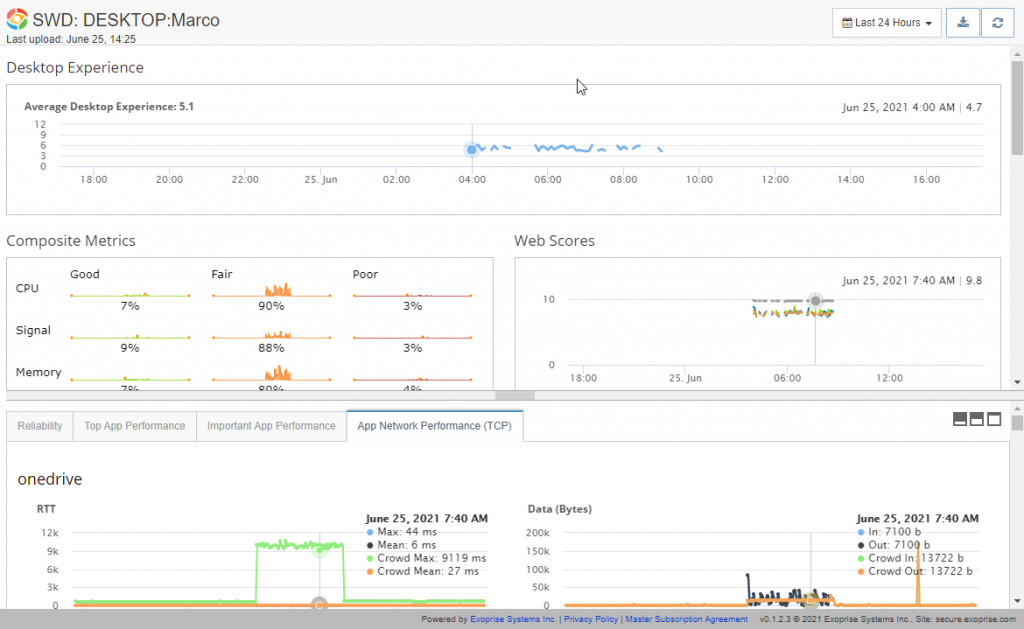 Windows Reliability Index and Event Log Data
If you're going to try and characterize the Desktop Experience then you have to examine the crashes, hangs, and Windows updates that might be causing them. Service Watch recently added the ability to capture, and aggregate the Windows Reliability scoring and capture the relevant event log entries that make up the scoring.
We further composite and aggregate the Windows Reliability Index into the overall DXS (Desktop Experience Score) for high-level views of 1000's of machines in a quick at-a-glance dashboard widget. And you can drill to examine what might be causing a user to have a poor desktop experience.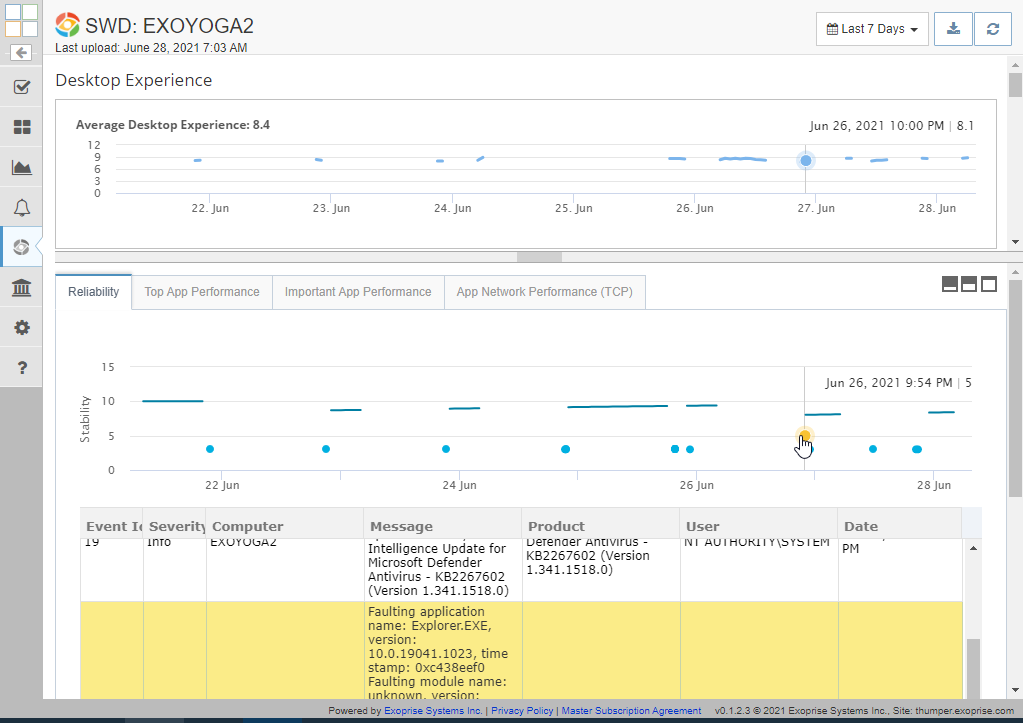 Service Watch Test Data
When you go to buy a new car, do you opt for a test drive first? We do and that's why we recently added support for Service Watch Desktop and Browser test data. Now you can load test data into your tenant for both products. Why would you want test data:
Getting a feel for the data without having to deploy to end users right away
Demonstrating to colleagues what Service Watch would look like in your environment
Seeing what a larger installation would look like
Questions about test data? Let us know.
Alarm API Support
For larger customers, we have added support for Alarm Create, Read, Update, Delete to our PowerShell Management API. Not all customers have access to the new Alarms API, you have to be a big enough customer.
Questions about the PowerShell Alarm API? Let us know
Bug Fixes
We bury the bug fixes here at the end, they happen to the best of us:
A bug with SharePoint sensors depending on web workers was fixed.
We fixed a bug with the geo-IP updatings of private sites even if the sites were pinned.
A bug was fixed where Teams lands on new Viva or Home site apps for users instead of the chat, or teams landing page.
A bug in Outlook Web App when the screen is responsive and mobile, the compose button is re-positioned within the window.
Teams network error capture was improved especially when customers mysteriously firewall odd parts of their network.
We improved the wait time for Email graph sensors and the 'Confirmation Sent' action.