November 13th, 2018
Exchange Online OAuth Support
The Exchange Online Web Services Sensor now supports OAuth credentials in addition to real credentials. This feature leverages the EWS capabilities of using OAuth credentials and tests availability and access served via the Azure AD with OAuth. This feature is in BETA while we test operating characteristics. Check it out
You can also read more about this feature here: https://www.exoprise.com/2018/11/20/test-exchange-oauth-access-azure-ad/
Also, there is an updated note in the setup that the Exchange Online sensor supports MFA when using an application password. More information about how to create an app password can be found here: https://support.office.com/en-us/article/create-an-app-password-for-office-365-3e7c860f-bda4-4441-a618-b53953ee1183
Widget & Metric Improvements
The Metric Scorecard widget was enhanced to enable clicking through to a sensor when the scorecard is configured for a single sensor (as opposed to an aggregate by sensor type).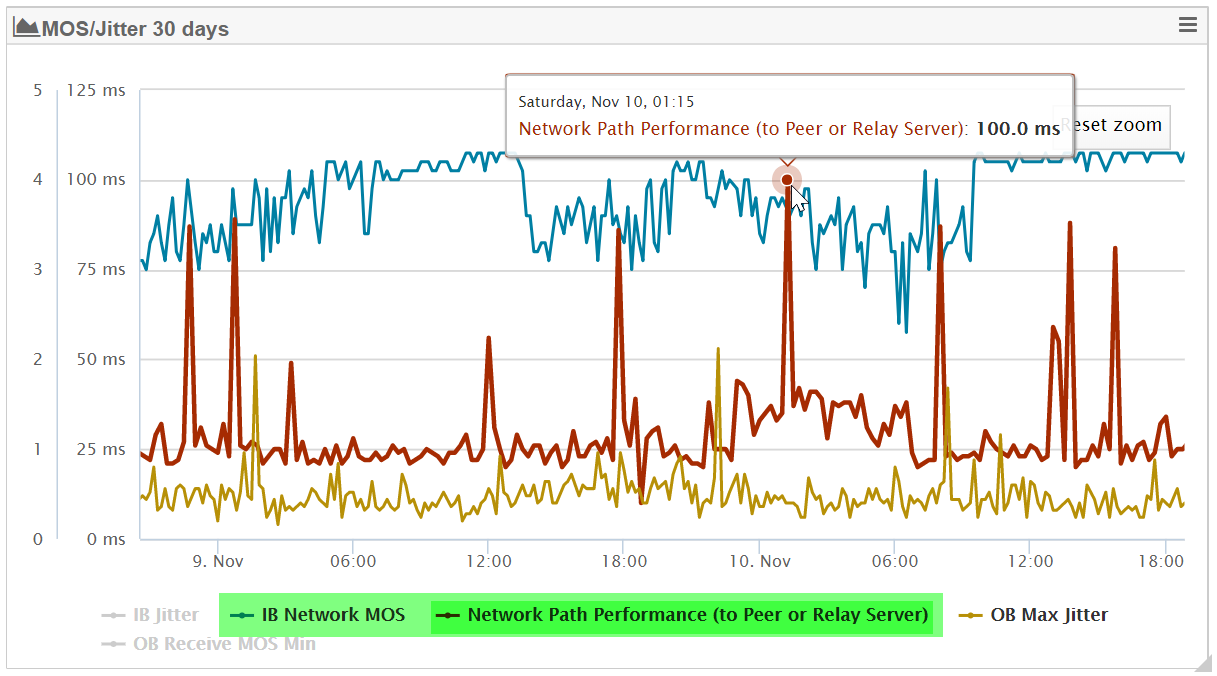 For many widgets, but most importantly the Metric Graph widget, we improved the ability to show Network Path Performance Data. This enables dashboard correlation of NPP data alongside other metrics. This fixes the inability to trend and show NPP data via widgets like Trend Grids.
Improved Granularity for NPP Data
For the main sensor details page, across all of the sensors, we improved the display of historical Network Path Performance data going back on an hourly basis for up to 30 days. This can help see longer term trending of NPP trace data and enable better correlation with service performance.
November 6th, 2018
We added a new product to the CloudReady Suite! Reporting is the newest addition to our set of tools. CloudReady is all about providing a single pane of glass to monitor the services you rely on, and the new reporting features will let you view data and statistics about your SaaS services over time. We've rolled out a beta version already that utilizes the Microsoft Graph API with much more to come in the near future, so stay tuned!
To try out reporting, add the Microsoft Usage OAuth to your account here, and then add a O365 Usage widget to your dashboard.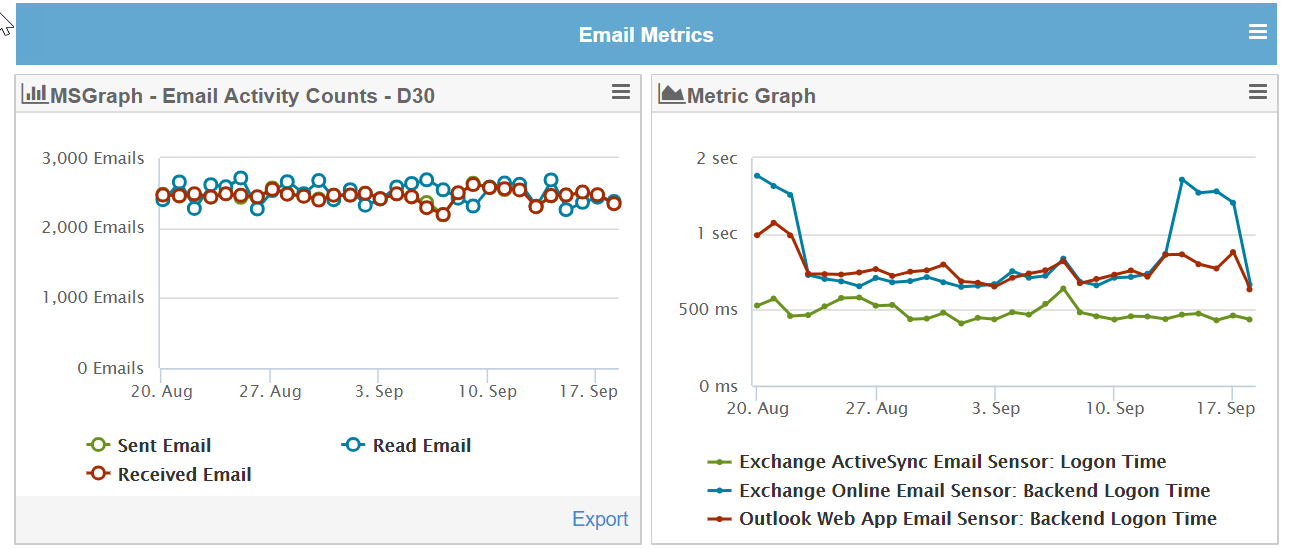 November 2nd, 2018
Network Path Performance
The Network Path Performance tab on the sensor details page has been upgraded. We've made minor changes to the data presentation to make diagnosing trace problems easier, including better segment analysis to let you know where in your trace you're spending the most time.
Service Watch
Exoprise Service Watch has gotten better! You can now match domains with wildcards, making sensor configuration easier and more intuitive. We've also made sending invites easier. Now you can allow a user to install the Service Watch extension on multiple browsers by sending multiple invites instead of creating multiple users. That can be handy when diagnosing or getting a baseline across multiple platforms.
Bulk Management for Manage Sites
The Manage Sites page was updated to enable bulk management and improved filtering across sites. Read more about the manage sites page and its capabilities.
October 10th, 2018
New Help site is available. Welcome.
August 21st, 2018
The Edit Sensors received a much needed upgrade. Filtering by sensor types, site and other conditions was improved in addition to more flexible column configuration. An option was added to export configurations as a CSV file which should assist with sensor management, documentation and reconfiguration.
August 1st, 2018
RDP Sensors Now Support RemoteApp
We added support for RemoteApp in the CloudReady RDP sensor. This was a popular request as many customers and service providers are delivering legacy thick client applications through RDS on Azure and using RemoteApp to publish those applications to end-users and customers.
Fully executing and testing the RemoteApp and Remote Desktop infrastructure ensures uptime and availability while enabling you to troubleshoot and diagnose problems that may occur.
May 30th, 2018
New SAML Single Sign-On Support for CloudReady
No more passwords for CloudReady, you control the access. Manage who can access CloudReady with your own Identity Provider.
Multiple Configurations
CloudReady supports multiple SAML configurations, per-tenant, for extra control and configuration. Use different configurations for testing out new identity providers, during migration, or for additional flexibility.
Provision Users Automatically or Pre-create Invites
SAML configurations can automatically provision users within a specific role or you can require an invite, first, before they are allowed to access CloudReady.
Automatic Migration
Users that previously had CloudReady-based accounts are automatically converted when they sign-in via SAML.
Organization Owners Maintain Both Sign-ins
At this time, Organization (tenant) owners will maintain their previous credentials (passwords) in addition to SAML-based sign-in capability. This is for emergency access in case the SAML provider is unavailable or mis-configured. We recommend maintaining at least two Organization owners within a tenant.
May 3rd, 2018
Site Management Pages Upgrade

A column was added for 'Free Space' and it reports the available disk space for the computer running the site (OS Drive). We also added a column when an update is available for a site. You can see the changes here.Ensuring the machines running CloudReady sensors have enough disk space is important to the health of your installation. CloudReady doesn't take up much space but updates from Microsoft do – especially for older machines!

Scheduling Private Site Upgrades

Private site updates are handled automatically by CloudReady but you can manually schedule an update if instructed to by support, for new product features or if you would like to upgrade on your own schedule.

New Site Operations Available

New operations were added for Sites enabling customers to Refresh, Restart or Reboot their private site. These operations can be accessed from each Sites edit page. Use with caution of course – or not at all. These operations were added to assist customers with maintaining their sites in good working condition and if support requests that you perform an operation.
February 27, 2018
Alarm Email Hooks

We've added a new way to publish CloudReady alarms, we call them Email Hooks. You can create a email hook on the Alarm Settings page, configure alarms to use the hook, and CloudReady will send custom formatted email templates to any system that consumes emails like ServiceNow or others. You can read more about the new functionality or here
February 21, 2018
Expanded PowerShell API

Support was added for updating and deleting private sites as well as managing maintenance mode status. You can get more information about the API here.
October 10, 2017
We updated the CloudReady dashboards with support for new widgets:

New SaaS Service Availability View

The new Service Availability widget enables you to see SaaS service availability over time per or per different service monitored. This is often a better view of various services and their availability from a particular location or branch office. Here's an example of Skype Availability over 90 days.

90 Days Skype Availability Status

or SharePoint Online and Office 365 Email Availability Over 90 Days

90 Days Email & SharePoint Online End-to-End Availability

Improved Sensor Heatmap

The heatmap widget has been improved and now enables viewing sensor health over time with configurable alert or error counts to trigger a state change. By right clicking on a cell, you can list all the sensors present for that sensor type and site. You can also left click on a cell to drill into a table view of those sensors. Click on column or row headers will show you a table view of all sensors of that type or on that site respectively.

Real-time Heatmap Configuration

Upgraded and Improved Map Widgets

The map widget has been improved to show trending, alarm, errors and events from a world map which can be zoomed and saved in a dashboard. You can choose to view site performance by metric trend or the number of alerts and errors fired in the selected time span.

New Map SaaS Services Health Overview

New Widget & Dashboard Preview

When you create a new layout (tab) within the dashboard, you have the option of starting with a pre-configured layout. We added this capability so customers could understand more of our new widgets and easily try out some of the new widget types.
To try this, simple click the **+** (plus) button to the right side of the dashboard and click 'New' to create a new layout. You will see various different preview layouts to help get you started.

Dashboard Layout Preview Overview