Exoprise offers a free trial of its products. Sign up here.
For the trial, you can deploy up to 3 synthetic sensors (probes) for SaaS applications, Service Watch Browser (extension) for 50 users, and Service Watch Desktop (agent) for up to 25 devices. A trial lasts up to 15 days and no credit card is required to start.
The trial doesn't start until the first product is deployed, so sign up, look around, and see how it works.
Start a Trial
First, Sign Up at https://secure.exoprise.com/signup or just Sign In if you've already created an account.
When you Sign In for the first time and haven't deployed anything yet, you'll land on a 'Getting Started' page within the product.
It should look something like this and guides you through the steps: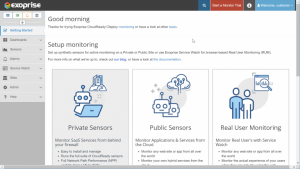 Benefits of an Exoprise trial
Get instant network benchmarks for all your cloud services. Compare your performance to other Exoprise customers – we call it crowd-powered.
Measure the performance and uptime of your mission-critical cloud services like Office 365, Exchange Online, SharePoint Online, and Microsoft Teams.
Try out Exoprise to see how easy it is to set up, configure, and get deployed.
Invite co-workers to see how application owners and internal teams can benefit from inside-out, outside-in monitoring.
How Does The Trial Work?
During the 15-day trial, you can deploy up to 3 sensors to as many locations as are needed. The purpose of an Exoprise trial is to understand the architecture and how easily the platform is deployed. Additional trial details:
The free trial for 15 days doesn't start until you've successfully deployed your first sensor
Deploy as many Private Sites as needed – there's no limit to the number of locations in a trial.
During a trial, only one sensor can be deployed to an Exoprise-owned Public Site.  There are some restrictions on which sensors can be run from a Public Site, and it's mostly to do with licensing.
Only one Service Watch sensor can be deployed during a trial, but a Service Watch sensor supports up to 25 users.
Trial Recommendations
Exoprise recommends setting up and tearing down different CloudReady synthetic sensors during the free trial, so you can understand how each works and get a feel for the different monitoring types.
You are free to export the trial data for each sensor as you work with them.
Invite colleagues with different roles to understand the Role-based Administration and Control (RBAC) works.
Create new dashboards and layouts to understand how the reporting and real-time dashboards help you with troubleshooting, diagnosis, and long-term trending.
Start Deploying
There are two different types of monitoring. Synthetic Monitoring (we call them Sensors) for proactively detecting issues and Real User Monitoring (RUM) for solving remote or employee problems.
You can read about Synthetic Monitoring or Service Watch (RUM) on our website. We also have a great article that covers the pros and cons of each methodology.
Deploying Service Watch
Exoprise Service Watch is real-user monitoring for SaaS, UCaaS, and Microsoft 365 apps. Service Watch runs on your end-user devices and utilizes an agent and browser extension to capture the complete digital experience and network performance of apps and services. It's great for monitoring SaaS services and applications you don't own.
Deploying Service Watch requires the ability to install software on the machine (obviously). For Service Watch to gather network telemetry, it requires administrative rights on the machine and should be installed as a Windows Service running as LocalSystem or a service account. To install Service Watch as a service, you will need administrative rights.
Guided deployment of Service Watch
Deploying Private Sites
Deploying a Private Site requires the ability to install software on the machine you want to run the CloudReady Synthetics from (obviously). Ideally, you should use a machine that is always running, 24×7. If you run sensors from a laptop and the laptop shuts off, the sensors won't be running, and you won't get proactive notifications about performance or outages.

Guided Deployment of a Private Site
Private Sensors
Private sensors run on your computers to simulate a user accessing a cloud service like Exchange Online, SharePoint, OneDrive, or Microsoft Teams. First, you deploy what we call a Private Site to any Windows OS (it's a Windows service). Then you deploy sensors to start monitoring your cloud apps. The data analysis and alerting happens on Exoprise servers that run in the cloud.
We require that you have a well-maintained machine, successfully running Windows Update, and follow Microsoft guidelines for maintaining the computer. Why? Because good software depends on it.
Guided Deployment of a Private Sensor
Public Sensors
Public Sensors are similar to Private Sensors, but they run on our computers in the cloud. They're great for comparing public cloud performance to the performance of an enterprise network, but they don't tell you about the digital experience that users may experience within your environment.
Guided deployment of CloudReady Sensor to a Public Site
Trial Extensions
Unfortunately, we do not typically offer trial extensions, and trials are limited to once per Organization. However, you may have a unique environment that demands a longer trial or other circumstances. Send us a note, before the trial expiration, and we'll get back to you. You can also continue to use the service on a pay-as-you-go, cancel anytime plan with our integrated credit card purchasing. A single product can be purchased for just a single month.
What Happens When the Trial Ends?
When the trial is finished, you won't get access to the data or sensors anymore. But you will have an opportunity to become a customer. You can get started with as little as one sensor on a monthly basis.
At some point after your trial expiration, your sites and sensors will be deleted, and the data will be lost forever. We recommend that you export your data before the trial expires to keep it.
Can We Run A Second Trial?
No, that's not possible. We have systems in place to detect such a thing, and this violates our MSA. Take advantage of your trial, ask us questions and let us know what we can help you with.
Invite Members of the Team
Inviting colleagues to help evaluate Exoprise during the trial period is easy. Just navigate to Admin > Users and generate an invitation. Ensure the people you invite sign up with the link provided in the email; otherwise, they may not sign up for the same tenant.